RRight to the City2 Albania aims to indicate how public space is affecting the city resilience in these pandemic times.

Online Open Forum
right2thecity in covid19pandemic
Albania 20th November 2020
1st session 10.00AM – 13.00PM
2nd session 17.00PM – 19.00PM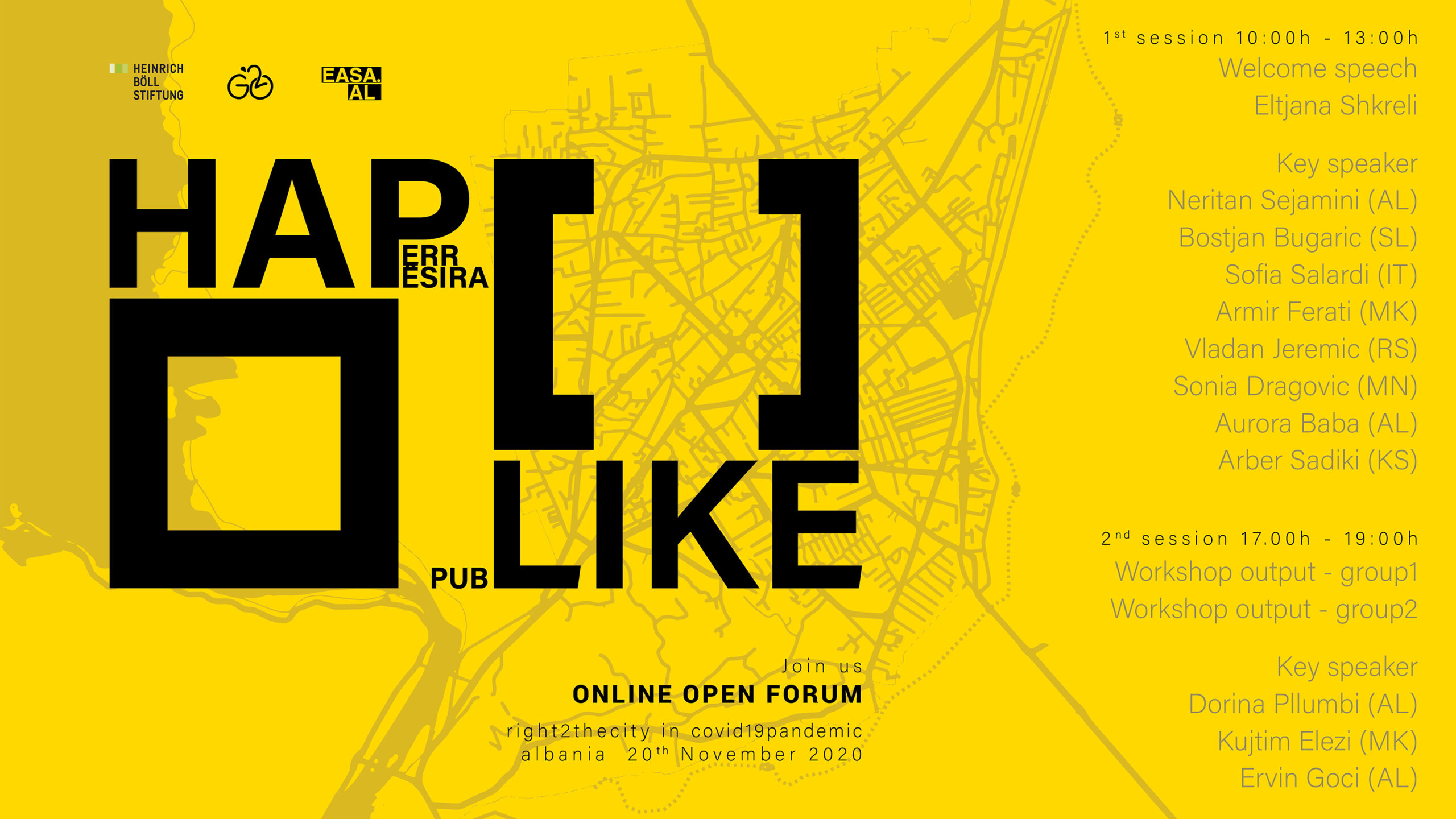 The Open Online Forum consists of two sessions.
The first session (10.00AM – 13.00PM) is dedicated to lecturers from Albania, Kosovo, Montenegro, Macedonia, Italy, Serbia and Slovenia who will bring the current condition of public spaces and rights to the city during the covid19 pandemic. This session will open with a welcome speech by the urban planner Eltjana Shkreli (CEO of GO2), while the key speakers are as follows:
Neritan Sejamini (AL)
Bostjan Bugaric (SL)
Sofia Salardi (IT)
Armir Ferati (MK)
Vladan Jeremic (RS)
Sonia Dragovic (MN)
Aurora Baba (AL)
Arber Sadiki (KS)
The second session (17.00PM – 19.00PM) will open with the two groups participating in the 3-day Workshop presenting the results of their work. Later on, during this session the facilitators of the Workshop will intervene with comments and suggestions, as well as 3 other speakers:
Dorina Pllumbi (AL)
Kujtim Elezi (MK)
Ervin Goci (AL)
After each lecture, there will be plenty of time for questions from the audience.
Right to the City2 Albania is hosted by the Sustainable Urban Planning Organization GO2 with support of Heinrich-Böll-Stiftung.