FFor many years, one of the most urgent concerns in Drini River Basin remains the pollution from urban waste. The solid wastes have become a very big problem recently, when the rise of the water level in Fierza Lake brings hundreds of tons of waste in spring and fall each year. The amount of waste is coming from settlements of Kosovo (White Drin) and Macedonia (Black Drin), and all Albanian settlements along the river banks and the streams flowing in Drin River Bassin.
The pilot project 'Pollution of DRIN River Basin from urban waste' is a cross border approach which aims to prevent the disposal of solid waste in Drin River Basin in order to improve the water quality, and more concretely in Kukes, Diber, Gjakova and Istog.
The CRESSIDA project builds stakeholder capacities to face sustainability challenges in the Drin and Drina River basins, focusing on improving the flexibility and adaptive capacities of communities and businesses based on knowledge acquired through the 2014 Course for Sustainability, organized by the REC's Sustainable Development Academy (SDA).
Funded by:
Environmental Protection Agency – US EPA
Date:
May 2016 - January 2017
Coordinated by:
REC Albania
To prevent the disposal of solid waste in Drin River Basin.
To start up by cleaning the waste management of the settlements (parts of the four municipalities) along the Drin River Basin.
To increase group cohesion and cooperation in between the stakeholders at intra/international level of decision makers, local communities, civil societies along the Drin River Basin.
Strategy for sustainable results:
Creating a network and inclusive approach about 'waste management issue' by involving a diverse array of stakeholders potentially affected by the action, increasing capacities for local coordinators and improving dialogue with neighbour communities, insuring the sustainability in long run. They will be able to implement the policies and fundraise related to DRIN River Basin issues in order to invest capitals in the future, such as: landfills, sewage systems etc.
Results:
A Database system of all spots selected by anthropogenic pollution criteria (solid waste and sewage). A common platform on web about waste management for the 4 municipalities, as a contribution from US EPA using their platforms or tools which might be open source.
Creating the network and partnership in between stakeholders of 4 communities and joining others… Raising awareness for collaboration and broad cooperation on issues concerning the Drin River Basin.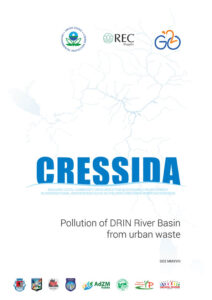 Cressida Project Brochure
Pollution of Drin River Basin from Urban Waste
Environmental Protection Agency, US
REC Albania
GO2 Albania
May, 2018