TThanks to biking tradition, Shkodrans preserve a lot of memories and stories in their family archives. A competition was announced which aimed to collect 65 photos from 24 competitors. After being carefully processed, the photos were selected by the jury composed of 3 members: Prof. Perparim Kabo (philosopher and anthropologist), Dr. Ermir Hoxha (art historian) and Mrs. Entela Shkreli (transport planner, GO2). About 17 photos got selected for the album, based on the criteria, like: old age, the story and the aesthetic of the photo. Only 6 photos were awarded, meanwhile 5 of them were picture and the last, but no least it remains the bicycle license, a precious document as biking permit dated 1944.
A photo exhibition was opened on 30th October 2017 at City Museum, as promotion of the album where many citizens of Shkoder shared memories of their families in time.
Extracting them from families' archives, these pictures tell beautiful stories, from the wheat harvest and the family picnic taken by the last Marubi heir, to a 50-year-old friendship, and the sorrow of losing a 4-year-old daughter named Antonjeta.
The big stories written in the thick books have always ignored the stories of the common people, but as consolation, this album offers witness to homo narrans – the storyteller – through "dyrrotaket", the authentic word in Shkodran dialect meaning two wheels. As a truly loyal friend, it's the bicycle that attends the parents with children's bike seats, helping the fisherman or the factory workers to go to work to provide food for their own families, or to make a cute couple in love happy under one umbrella.
All this happens in Shkodra, where the bicycle is family and each family has a story.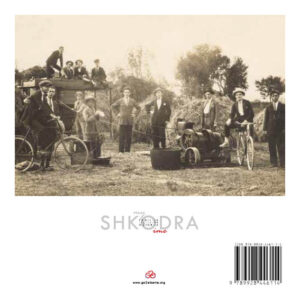 Shkodra, my family, my bicycle, my story
Photo album with bicycles before '90s
Published by GO2 organization
Editor: Eltjana Shkreli
ISBN: 978-9928-4461-1-4
Shkoder, 2017