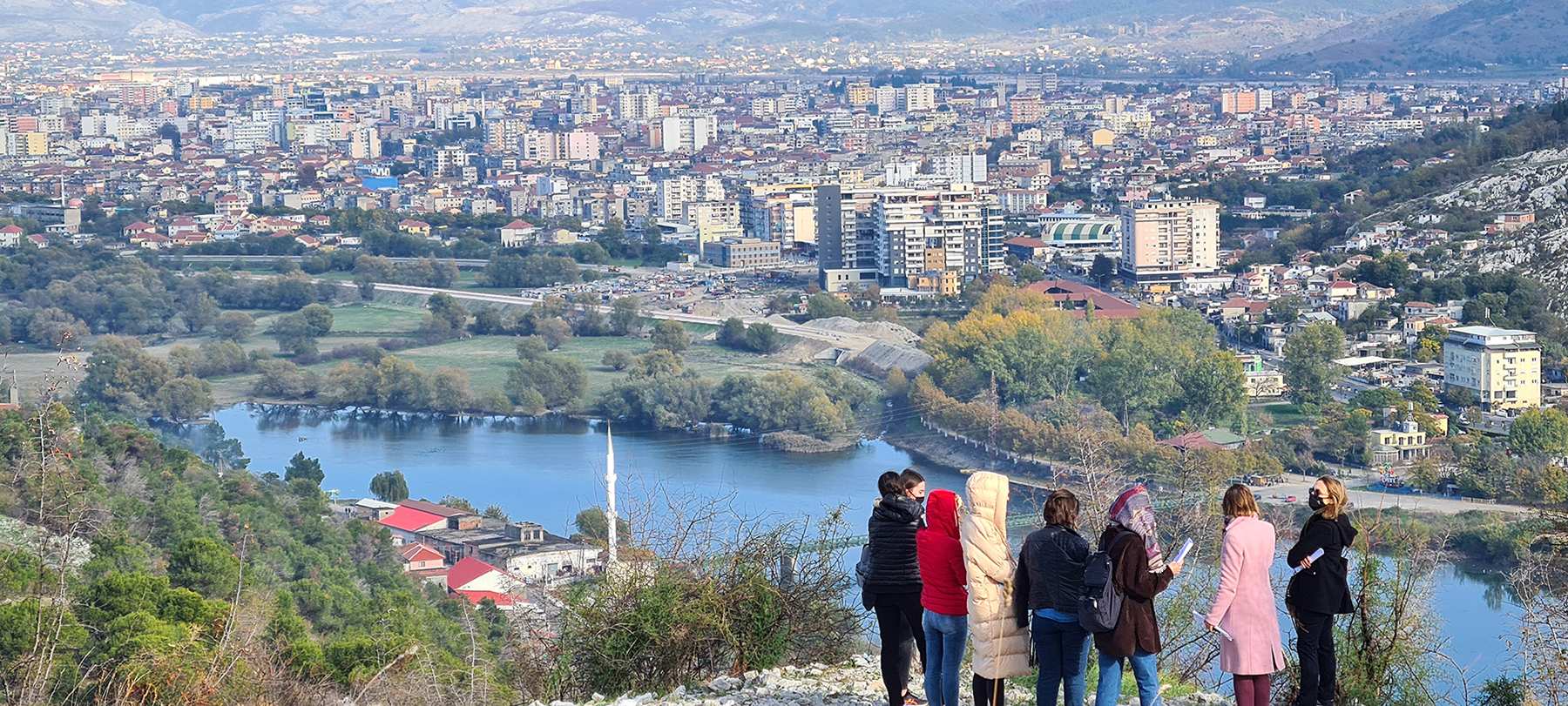 Punëtoria në Right to the City 2, Dita 1
DDitën e parë të Punëtorisë së Right2theCity, pjesëmarrësit e nisën me leximin e qytetit të Shkodrës nga mali i Taraboshit.
Më pas, ata ecën përgjatë qytetit, në përpjekje për ta ndjerë atë si çdo qytetar.
Përjetimet dhe konstatimet e tyre, studentët i ndanë me lehtësuesit e Punëtorisë, arkitektët Arbër Sadiki, Kujtim Elezi Pezana Rexha, Eltjana Shkreli dhe Armir Ferati.
Shumë tema diskutimi të lira u bënë pjesë e debatit:
Qyteti si një libër i hapur ka në përmbajtjen e vet shtresezime të shumta, qofshin ato sociale, historike, arteriet qarkulluese të rrugëve, hapësirave publike, tipologjive të ndërtesave… Të gjitha këto kanë një emërues të përbashkët, që është kujtesa kolektive, e cila punon si nënvetëdije, por që është tepër orientuese për të ardhmen e qyteteve.
Sjellja njerëzore është një aset mjaft i vyer në formëzimin e qyteteteve. Komunitetet janë gjithmonë përpara zhvillimit, sepse ata i përkasin qytetit dhe janë rrënjësisht të lidhur me të, prandaj kur planifikojmë dhe projektojmë hapësiren urbane, ne duhet të përfshijmë mendimin e sugjerimin e komunitetit. Planet janë te bukura në letër, por mbeten në letër. Sfida është si të përkthehen në realitet. Realiteti janë e mbeten njerëzit, sepse përndryshe qytetet kthehen në përbindësha pa ndjesinë njerëzore.