'Shkodra, my family, my culture, my story' is the third photo album about collective memory and complied for the annual competion organized by GO2 Sustainable Urban Planning Organization, as an outcome of the annual competition organized by GO2.
The competition methodology is based on presenting personal photos and stories from the family archive. The main theme of the competition is focused on two permanent pillars, which are family and story, as two sensitive topics of the city.
Categories:
Competition, Exhibition
This year, 44 competitors took part in this year's competition, who entrusted GO2 Organization 306 photos and stories from – a significant increase compared to previous years. The images are taken between 1878 and 1989, belonging to at least 22 well-know Albanian photography firms, some of them from the city of Shkoder. Although some of the participants in the competition are unable to confirm the authorship of an additional group of 120 photos brought by them in this competition, we believe a large number of unattributed photographs up until the end of World War II (WWII) may belong to Marubi, Jakova, Raboshta and Pici. It is most likely that a large number of unattributed photographs taken after the 1960s were taken by Angjelin Nenshati, a documentary photographer who was unrivaled among his contemporaries.
The album 'Shkodra, my family, my culture, my story' contains 64 photographs, 40 of which were directly selected by the competition jury. The jury is composed of Elsa Demo, a journalist; Iris Elezi, filmmaker; Perparim Kabo, an anthropologist; Qerim Vrioni, a photography researcher and Herman Zonderland, a photographer. Photo selection criteria include: 1) age of the photographs; 2) storytelling and 3) aesthetics. As exception, photographs of some relevant wind bands have been added because of the key role they played in the artistic education of generations of Shkodras.
Why were the photos in this album not restored?
Photographers, art historians and scholars share different ideas about photo restauration, and after consulting the scholars' opinion, the organizers diced to publish the photos without retouching them. Consequently, the public will have the opportunity to see the original picture that Shkdora's families have been entrusting them with for years. They will also have the opportunity to understand and appreciate the great work done by GO2 experts in restoring hundreds of photographs at the past two competitors (2017 and 2018).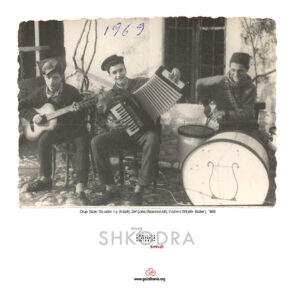 Shkodra, my family, my culture, my story
Artistic and cultural life in Shkoder city before 1990
Published by GO2 organization
Editor: Eltjana Shkreli
ISBN: 978-9928-4461-6-9
Shkoder, 2019